Hi Brad,

You weren't kidding when you said my school was one of the best.I guess I got kind of lucky to have one of the most advanced kindergarten classes, but then again with the beginners there's probably more potential to correct behavioral problems. Anyway, my apartment is spacious for one person. Even my Korean friends were impressed with its size and openness. It's a reasonable size, but I still plan on getting a roomba just because I'm lazy. To any potential TEIK candidates I'd say don't wait until getting to Korea to start studying the language, but once you get here the surroundings are a great motivation to learn a bit of the language, so try to learn a little before you arrive. Thanks,
Alex N. Bucheon, Gyeonggido



Dear Brad,
Teaching in Korea was a great opportunity for me in a number of ways. First, because I had long intended to get certification to become a teacher in the United States, it was a chance for me to get classroom experience with children, and to compare Korean and American educational methods and philosophies. Second, it was a memorable cultural experience. I got to see a number of fascinating Korean historical sites, try new foods, and learn new words. Third, and most importantly, I met a lot of great people, Koreans and westerners alike, in Korea, including some friends I will have for the rest of my life.
Josiah Rector Seoul, Gyeonggido, S. Korea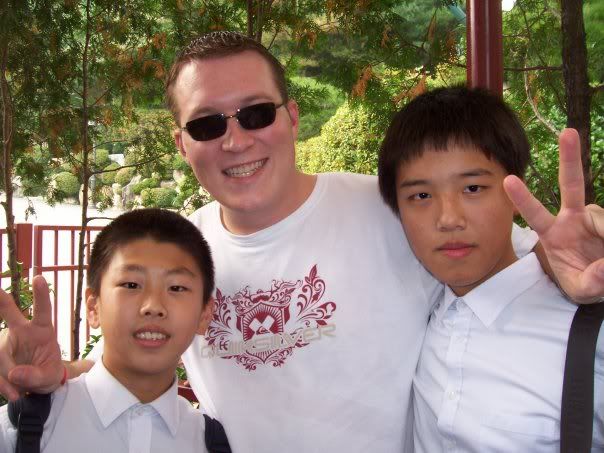 Hey Brad, Sorry to take so long writing. Everything has been great here. All of the staff and faculty at my school here in Ansan have done an incredible job of making feel welcome and like a part of their family. I couldn't have asked for a better school. The students here are also great. They make me feel like I am a local celebrity. I am absolutely loving my time here. After only two months, I am quite sure I will sign on again for a second year with this school. To anyone else who is reading this and trying to decide who to use as a recruiter, I highly recommend using Brad's service. I've talked to many other foreign language teachers since I have been here, and almost all of them are envious of my placement with this school. Thanks again Brad for doing such a great job.
Sincerely, Andrew Brasswell Ulsan, S. Korea




Hey Brad,

Finally, I have a moment to write a testimonial! How have you been? We are doing just great! We are doing great here in Korea! Thank you so much for all the hard work and effort you put into getting us this job and making sure we were comfortable. The apartments is very nice. I was unable to bring my dog as we are too far away. Despite this, I wanted to thank you for your help and encouraging attitude towards bringing my dog here. Our director is the 'cream of the crop'. He has taken care of us in every way possible. We could have not asked for anyone better! He is always at our beck-and-call, offering us dinners out and museum trips. He is there for whatever we need, and definitely puts our needs first. If we are happy, he is happy and vice versa. Having the weekends off, we have had access to exploring the beautiful countryside, which I had never expected. The mountains here are dark and mysterious as I've ever seen and we take great pleasure in exploring their crags and crevices. We wondered to the East Coast beaches last weekend. Despite the cooler weather, we had the usually bustling place all to ourselves. We tried all the traditional Sashimi dishes, including raw oysters, clams, snails and barnacle-like delicacies....a first for us. When we are not adventuring, we are happily teaching in our school. The kids are marvelous, and we know everyone by name and heart. We have a great time in the classroom and everyday can't believe how fortunate we are to have the jobs that we do. Thank you for making this all come to life in such a positive tone, you really picked an ideal spot for us to grow!!!
Leela Perez, Bucheon, Gyeonggido, S. Korea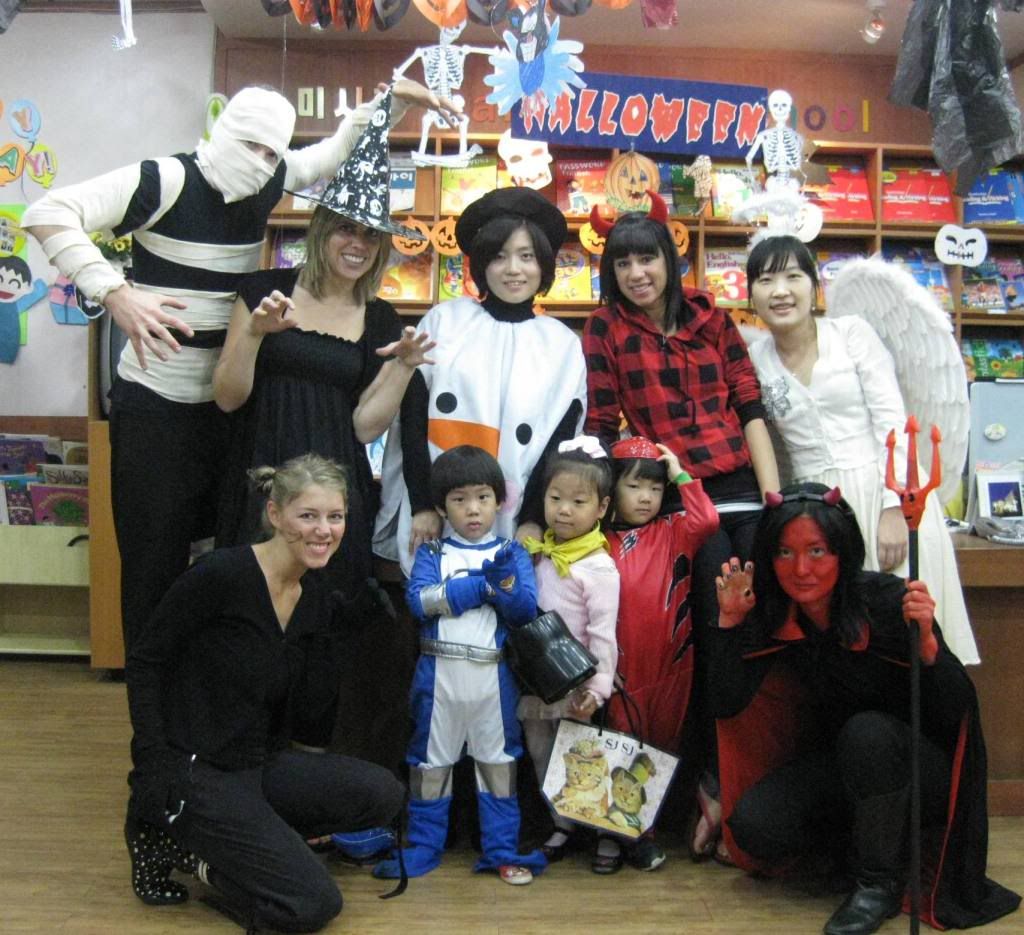 Onyeo Brad!
How are you doing over there in chilly chicago? Its getting chilly here in Wondang! Brrrr. Thank GOD for heated floors! :) Due to our mold problem at our apartment we stayed at our director's home last night. Funny story about our after dinner snack: Ricky stopped and picked up some pig legs (jokbal) and fried octopus balls to eat on arriving home with his wife and kids! hehe...such a treat. Actually the fried doughy balls of octopus were amazingly good....cant say the same about the pig's fatty legs! hehe. They were an interesting taste! Anyways, I just wanted to email you with photos from a few of the latest events at school and to let you know everything is going well: Halloween and November Birthdays. I should send you some pics from our Thanksgiving party as the kids with indian feathers and facepaint is pretty funny.
Thanks Brad! Tata for now. Enjoy the pics & Keep warm! Elizabeth Greener Ilsan, Korea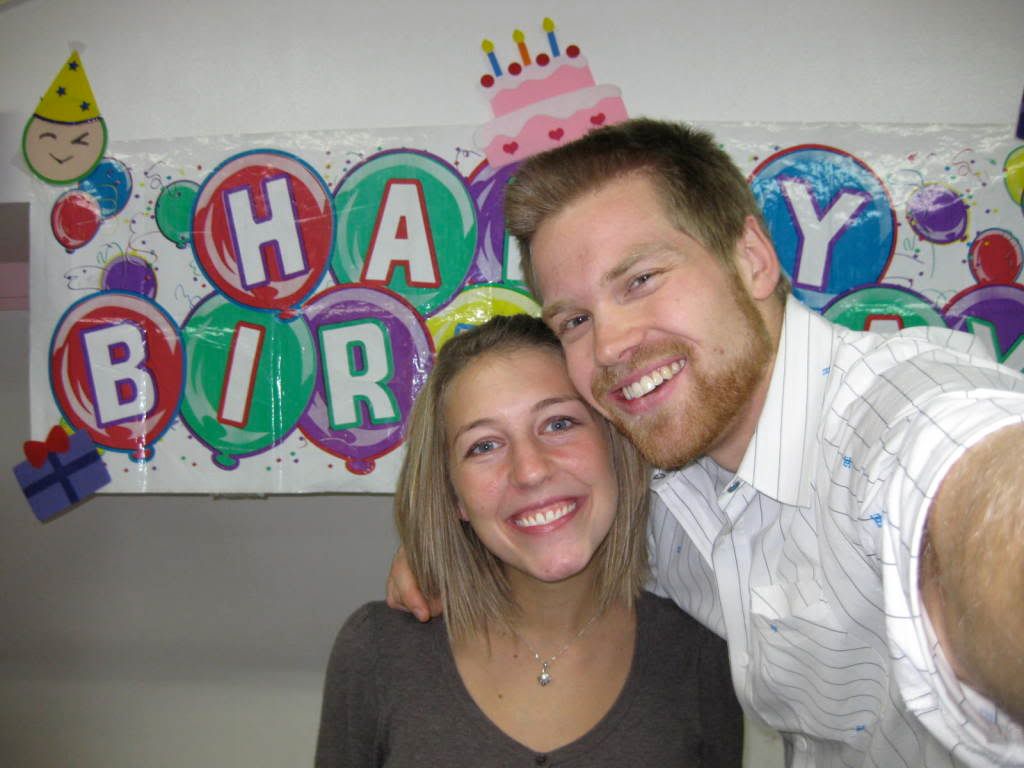 A few months ago my wife and I were in search of jobs. Our search brought us thankfully to an online post saying "Teach English in Korea." These words sparked our interest and we both applied. In a matter of 24 hours we both received emails from Brad Brennan who so warmly invited us to interview with him at a Chicago Starbucks. From the beginning, Brad was a wonderful person to work with. Our first meeting was filled with conversation about Brad's exciting and wonderful 7 years in South Korea, as well as many questions and answers. His excitement was so contagious. Nolan and I left our rendez-vous enthused and ready to apply. Once we accepted, Brad helped us with the visa process and to get everything filled out and thoroughly organized. He gave us websites, reminders, and even sent out documents to the right people in far off Asia. Now Elixabeth and I are teaching little kindergarteners and Elementary students English at Michigan Campus in Seoul, S. Korea. We have a cute 2 bedroom apartment only a 10 minute walk away from our school and are enjoying our time here. If you have any questions or want some more info, feel free to email us : Elizabeth & Nolan Hunt Emails: ,

"Working with TEIK is great. They helped me through every step of the way, kept in constant contact with me, and the school he matched me with suits me perfectly."
Hey Brad,

Thanks so much for setting Leela and me up here in Non hyun dong, Incheon. It is really nice to be here and we have settled in very nicely. We have a wonderful little apartment which is working out just fine. There is a nice gym that we joined right nearby by which is perfect for the winter times. Our director is a very nice guy, and we are really enjoying the work. Working with the kids is the most rewarding aspect of our work. The students are fun and it is nice to work with a smile on my face. The neighborhood is very fun to explore, and there are also some nice native teachers working at a school close to ours. You have been so helpful throughout this whole process, both before and during. I look forward to meeting up with you next time you come to Korea. Thanks Brad,

Rob C.

Yeah man! I tried to email you from a pc bong, and it just did not go through. This damn APT and this public school are the best things I have seen in Korea! Thank you very much; it was well worth the wait! Excellent co-teacher, and my APT is like a mansion compared to what I lived in last year. I still do not have a TV, or phone yet though, but will have them soon. Just had my physical today and it was all good. Things here are very different than I was used to from the year before and I can tell you, they are WAY BETTER!
Thanks again!
Danny Haught, Incheon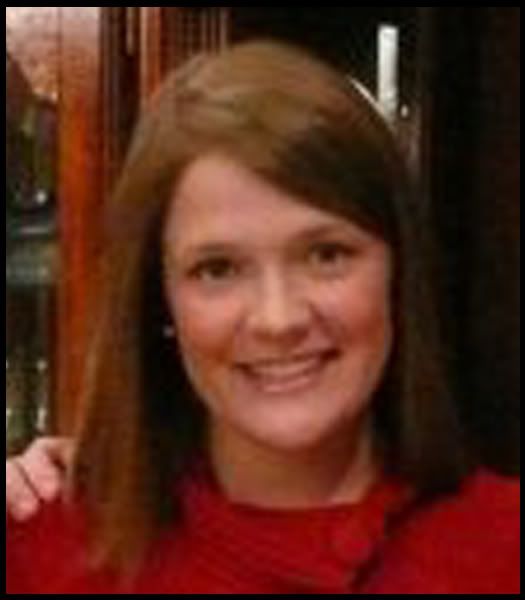 ---I wanted to take the time to write this testimonial for Brad because he has been so helpful throughout this whole ordeal. I ended up not even placed through TEIK but he still went above and beyond to make sure my transition to Korea was a smooth one. I could not believe that someone with so little to gain from helping me would still put in such an effort. It truly is a testament not only the kind of businessman he is, but also his personal character. Thanks again Brad!---
I appreciate the info on the other schools as well. Thanks again for your help and I will be sure to use your services next year!

Emily

Hi Brad! How are you? I hope all is well. My first month in Cheongju was great. I really enjoy my job and my co-workers and friends have treated me extremely well. Working with the children has been both pleasant and personally rewarding, and I feel very fortunate to have been placed in one of the best family-operated franchise locations in the area. My apartment is superb and the relationship with my new Korean family is wonderful (They have already taken me on several amazing trips. I am excited at the many unique opportunities I will have in the coming months to explore the country, as it is beautiful and rich with culture and history).

Certainly, my time here thus far has been special, and in large part due to your help. I was impressed by the extraordinary effort you displayed to secure for me a position under the most desirable and convenient of circumstances, and I am truly thankful for your steadfast assistance throughout the entire visa process. Your professionalism reflects well upon your program, and I would recommend your excellent service to anyone.

Thanks for helping to make this possible! Take care,
K. Cheongju

Greetings Brad from sunny Seoul!!
Things are going great at my hagwon in Suyu, northern Seoul. The transition has been rather mild and I suppose I'm still waiting for culture shock to sink in...Another teacher at my school has been here several months and never experienced a hard culture shock. I feel I am in the same boat.
Classes keep me busy each evening and I find the workload challenging but not too stressful. Teaching requires a great deal of patience and an awful lot of spontaneity. My students keep me on my toes and I enjoy their youthfulness, innocence, and dedication. In Korea I feel very peaceful and relaxed even in the Mecca of its biggest city. There is plenty to see and many new experiences to appreciate and ponder.
I would like to thank you for your hours of research and dedication to this exciting adventure. I feel I owe you a great deal for your participation. Thank you for your enthusiasm and ability to 'sniff out' solid hagwons and cheers for processing my visa so quickly for me. May you be blessed with many other happy teachers!!
Sincerely, Heidi Kaiser
Suyu, Northern Seoul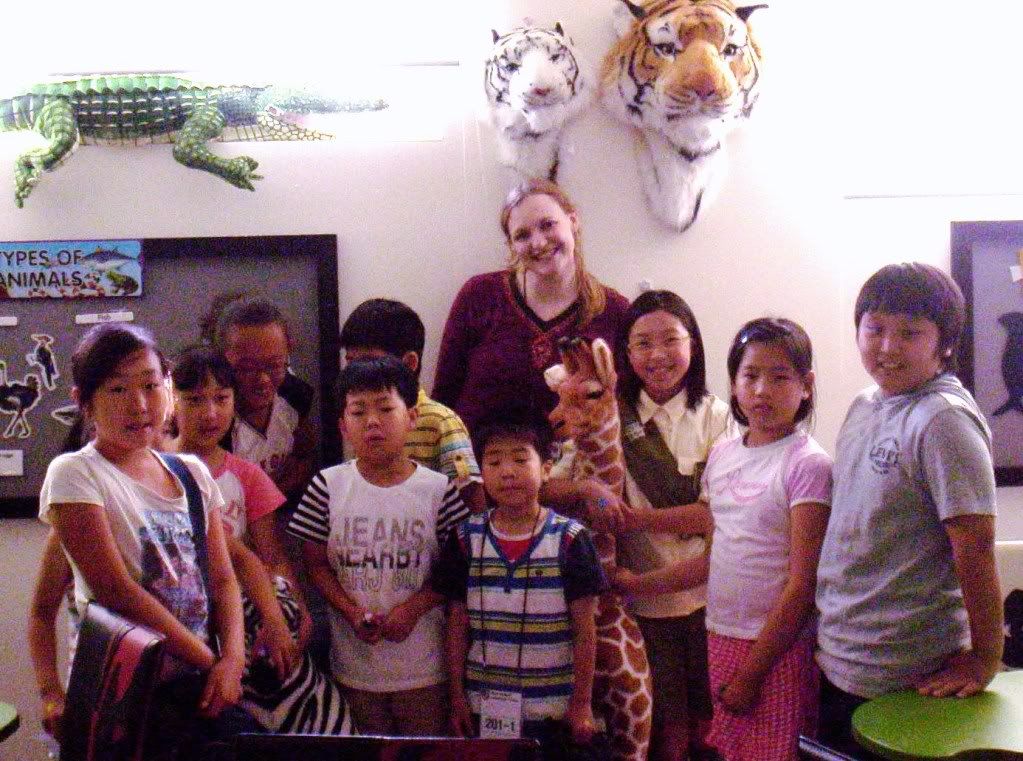 Hi Brad!
I am so glad I chose T.E.I.K. as my recruiter for my Korean teaching experience. The school is wonderful and my coworkers are all great. I have met so many amazing Koreans both young and old and seen a lot of awesome sights. T.E.I.K. was so easy to work with throughout the entire placement process. They were able to answer all of my questions and help me obtain this incredible job. I also highly recommend the visa services that T.E.I.K. offers. Immigration laws and visa requirements change all the time, and having the assistance of T.E.I.K. to walk me through every step of the process was truly a godsend. Thank you for everything, T.E.I.K!!!!! -Amy Kaminsky, Osan Korea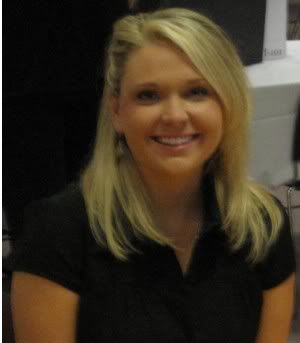 Hi Brad!!
WOW! This place is amazing. I'm in love with the vibe of this city. I have to thank you because you placed me right IN the city and it's everything I wanted!!!! Right now I am at a PC CLUB until I move into my apt tomorrow and I will be able to write more.
I will also give you a recommendation after I have taught a few classes. So far so good! I met Ms. Jo today and I feel strangely very comfortable here. I can't wait to start making friends and thanks for introducing me to several other TEIK teachers and from what I hear no other recruitment agencies do that. AND I can't wait to Kels gets here. I told her to try and be IN the city because it's so amazing and alive. I can't wait to see her here, so thank you so much for placing us both close to each other.
Thank you for everything!!! Talk to you soon. Lindsey Phillips Gangnam, Seoul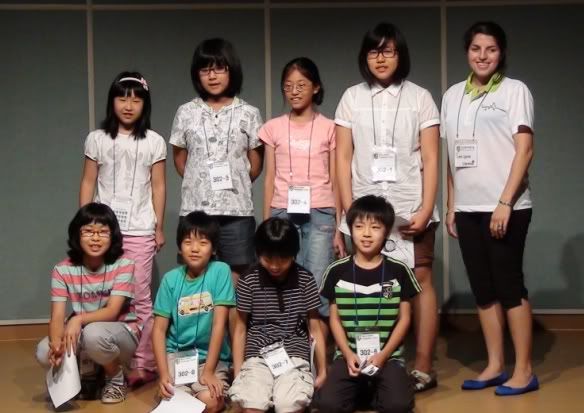 Hi, my name is Lori and I am from New Jersey. I am teaching Math, Zoology and a Magazine class at the G.L.C. in Osan and I'm having way too much fun. Osan is about an hour south of Seoul and is near a US military base. The kids range in age from 9 to 13 years of age and are fun to teach.
The school is absolutely beautiful and my apartment is a three minute walk to the school. Everyone at the school is very helpful and super nice, which makes things very easy for me. Although I've only been in Korea for a month, I'm definitely enjoying my time.
Thanks for all of your help Brad! ~Lori Llarena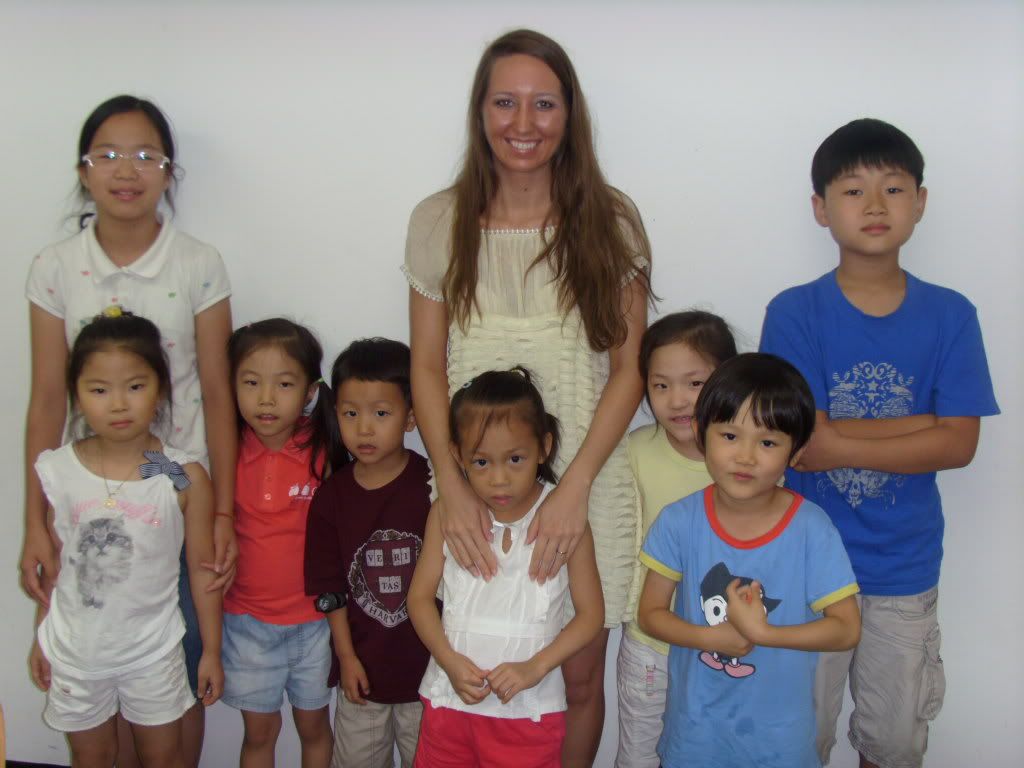 I have always wanted to go to a foreign country and live for either missionary work or teaching, and now here I am, teaching English in Seoul, Korea. I left behind my family, my friends, and most importantly my very supportive husband. Without my husband being so on board with my decision I wouldn't be here. I also wouldn't be here without the help of Brad. He helped me with all of my visa requirements and still keeps in touch with me after I arrived in Korea. I have heard horror stories from other foreign teachers with other recruiters from the United States even, that after they reached Korea, they never heard a word again. Brad kept in contact with my employers here to smooth out any wrinkles that came up in the first few months I lived here. The kids are why I came here in the first place, and I have fallen in love with them. Like I do every year that I have taught. They are always happy and always excited to come to class, even if they don't understand everything you say to them. They bring me snacks, drinks, and random little gifts just to say thank you and some of them bring something every time they come to class. I would say the parents, but I only talk to the mothers, are wonderful and love that I am here helping their children. One mother has invited me into her home and taken me to lunch; brought me food, brings me Korean/English daily devotional books, and told me her son scored higher on his English exam than any other subject because of me. I can't wait to see what the rest of my year has in store and how many more lives I can positively influence.
Andrea Greene, Bundang, S. Korea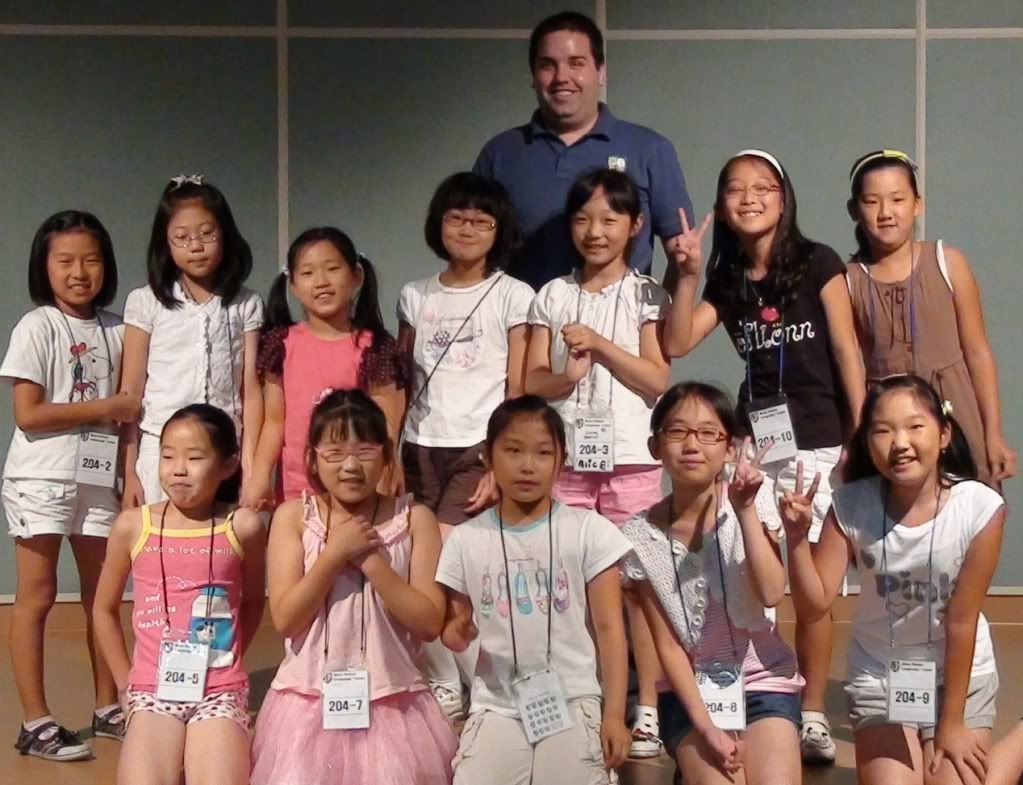 I am so glad that I decided to come teach in Korea, it has so far been an eye-opening experience that has changed my life forever. If you are thinking about coming to Korea and teaching, Brad (T.E.I.K.) is the guy to go through. He is very knowledgeable and helpful throughout the whole hiring process, as well as helping you get your visa, which made it so easy for me. Brad did virtually all the work required to get my visa, and made the process that much easier. If you are serious about coming to Korea I cannot emphasize enough to go through Brad and www.teachenglishinkorea.org.
-- Brian Novotne, Osan, S. Korea

Hi Brad!
I'm sorry for taking so long to get back to you. Time has flown. But life in Osan has been very good so far. The hagwon is a great place, and the kids make work fun--most of the time! My diet has changed, too. It took several weeks to adjust, but now I'm eating more Korean food than ever. And learning Korean is slow-going, but I set up a language exchange with one of the Korean teachers here which has greatly helped us both.
Thanks again for your help and support in getting here. Even though I'm less than four months in, I already have countless stories and many great experiences. I've included a couple pictures here from class. Good times!
Talk to you soon, Paul S., Osan, Korea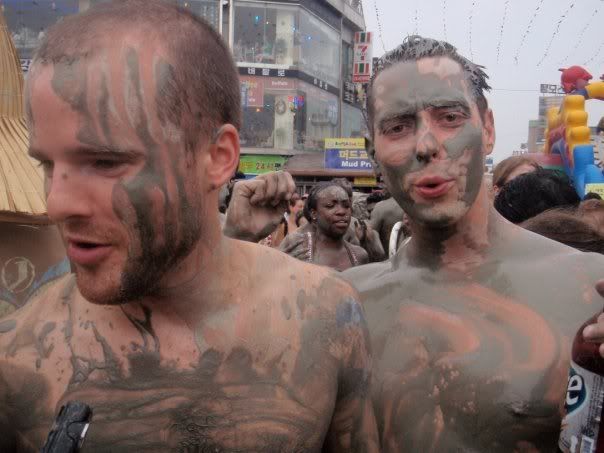 Hey Brad! Finally got some pictures of my students and I will be sure to send more soon! It's been great so far, better even than what I expected. I got REAL lucky with Kids College (or so other people from other Hogwans tell me). It's all thanks to you!
I really can't thank you enough for all your help with my placement, visa and such. More pictures of my school will be sent as soon as I take them and post them. I've met some really good people here and I'm having soooo much fun!
Thanks again Brad!! Peter McIlhon, Bundang, Korea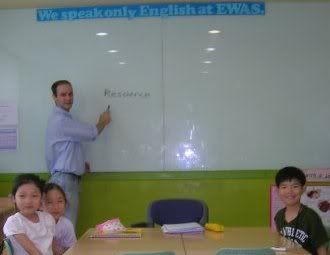 Hello Brad, Things are still going really well and I don't expect that to change. I am on Facebook now and you can snag a photo off of it if you want for my testimonial and you can use this email as my testimonial:
I am very happy with the service (TEIK) Brad Brennan provided in getting me to Korea. The school I work for is great and the part of Seoul I am living in is also great. Brad made himself available to answer questions throughout my application and visa process and he returned all of my emails and phone calls within a day. Brad proved himself to be trustworthy and I am happy to recommend him to anyone considering teaching in Korea. Chris Arambasick Seoul, Korea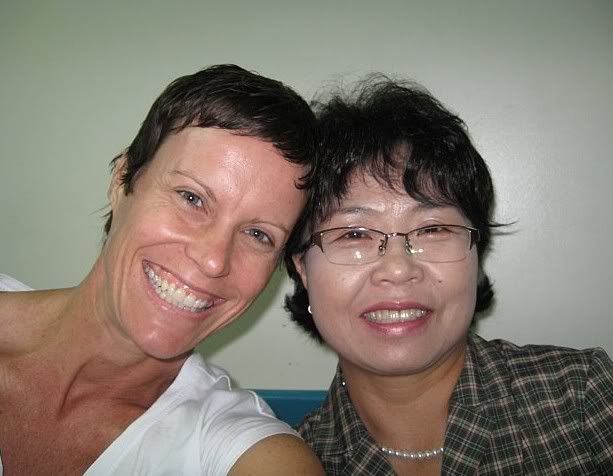 Brad - things are going extremely well at Jayeon and thanks again for getting me placed so quickly. I started teaching classes this week, and beginning Monday, I have a full load with a new theme. I am doing well and enjoying the experience very much.
I thought you would enjoy these pics of the school, teacher colleagues and Korean teachers and staff at Jayeon School in Bo Jeong. Hope all is well with you and thanks again for sorting out everything for me.
Cheers, Valerie Klick, Bundang

Brad,
Things are going very well and I've only been here for almost two weeks. I am getting into classes, progressing from shell-shock to competence. I am exceedingly happy I followed through with the trip and I never really doubted it. Loading pictures takes forever, but here is a good one of me with some of my students. Let me know what your facebook name is and I will friend you, so you can see more of my pictures. I have posted more pictures on my page that you can choose from. Thanks for everything and placing me at a great school. John Clinton Work Seoul Suburbs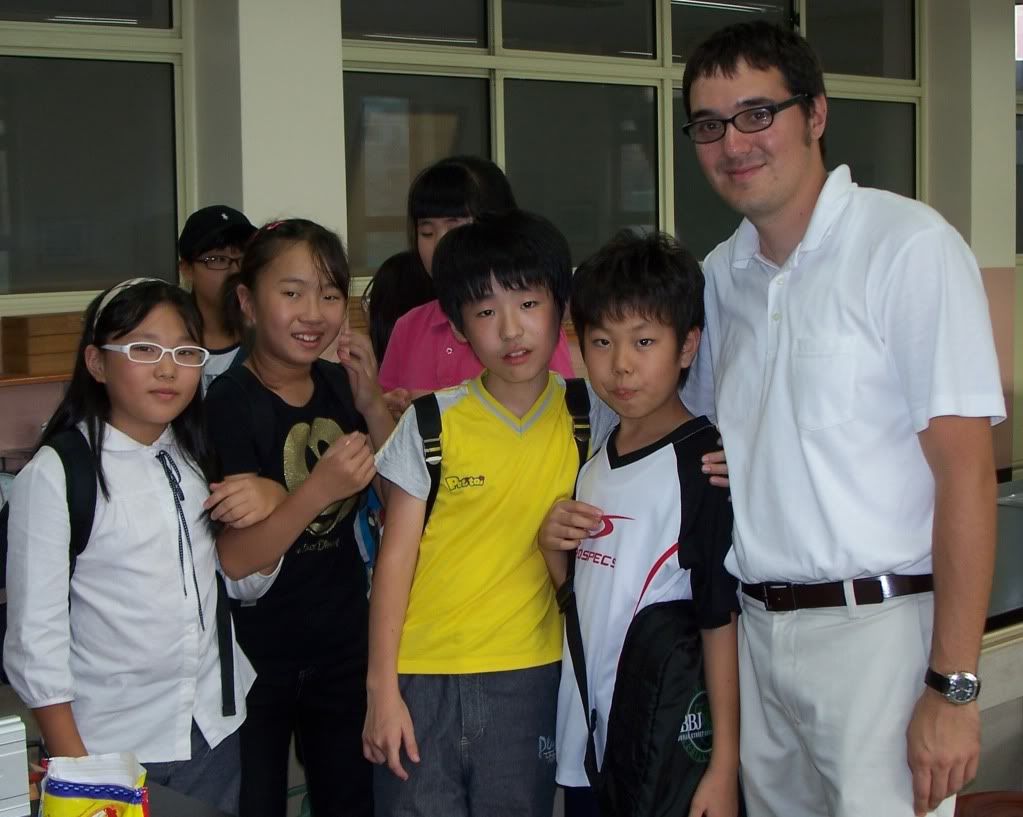 Hey, Brad. Greetings from Daegu! It's been one month so far and I absolutely love my job. The management staff here is awesome and they're incredibly friendly. Even the schools that I work at are fun and the kids are so damn cute. Thank you so much for helping me land this gig. Sorry this is so short, but I have to do a little lesson planning before meeting my friend's downtown for a few drinks. I'll definitely keep in touch, and I'll definitely recommend your company to anyone I meet who's interested in coming over here. It's an adventure I know that I'll never forget.
Thanks again,
Sean Hinojosa, Daegu
P.S. - I've attached a pic of me and my advanced class from Dongshin Elementary school. The girls were a little camera shy, as most 6th grade girls are, but I managed to get most of them. Lol.

Hey Brad,
I'm not sure you remember me, but I'm one of the people you were able to help get a job in Osan. Well I was taped for a show that is supposed to air on Arirang TV next Monday at 9 pm here. It's called Travel blog. Feel free to use it for your website if you like. (If they air it that is...;) Things are going great here, and I'm loving it!!! Thanks a lot for everything and thanks again for making it so easy for me by taking care of my visa and putting me in such a great school.
-Tyson Condict, Osan, S. Korea
Hey there, Brad!
Here's some pictures of me and my kids. Well, I suppose they are "young ladies" to be correct. hahahahahaaaaa! Please keep me updated with any new faces you may help find their way to Busan. Andrew, Monika and I have hit if off swimmingly, so thanks soooo much for introducing us to one another! :-) Also, do you have any specific recommendations for this city pertaining to touring, hot spots, etc? That question goes for your old stomping ground of Seoul too. :-) Thank you, thank you, thank you.
~Tori Robben




Hi Brad, Just wanted to touch base and let you know how great things are out here in the suburbs of Busan, Korea! I can honestly say that i've never felt more welcome somewhere than here. My co-teachers have been fantastic in helping me with anything I need! From my first day when they took me out to get brand new bedding to only a few days ago when I visited the hospital for the check-up and a co=teacher assisted me door to door!

My classes have been great, loud...but great! The children treat me almost like a celebrity...i've done everything from pose for photos for thier camera phones to sign autographs for an entire class! I could get very used to that kind of attention! I'm kinda away from the main areas of Busan and I rarely see another 'westerner' in my local area but the benefit of this has been that some locals have stopped me in the street (mainly when im looking lost!) and are so kind and friendly towards me!

On the social side, i appreciate you putting me in touch with other teachers you have placed here (Tori and Monika agrea great!). its been really easy to make friends here...with both locals and 'westerners.' I have already have some wonderful memories and im only 2 weeks in!!

Anyway I have attached a couple of pics of me with some of my class for you. Many thanks for all your hard work in getting me here, especially with getting all the admin sorted...3 weeks from job offer to being out here was a very quick turnaround!! I'll keep you posted with future updates...if you have any more tips or advice on Busan...please fel free to share!

Cheers!
Andrew Turner

Hey Brad and Misty,

Sorry for the delayed response. I'm finally feeling settled here. I really like the school, and the teachers are great. The teaching is very organized and I don't get bored since we use a wide variety of books. Lesson planning doesn't take much extra time, although I like to enhance my lessons by using video, games and group projects. Communication is good from the principal and the other Korean teachers. The elementary school kids performed for their parents today, and tomorrow the older ones will do Christmas carol dances. My apartment is great, and close to school. I even joined at nearby gym. I'll try to send a picture with me and the kids soon.

Merry Christmas,
Christine Lenihan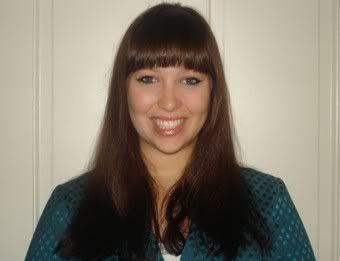 Hey Brad! Well I'm here in Gimhae and I love, love, love it. Charlie and his wife (who is actually the director and Charlie is "Chally" who had emailed me and interviewed me...it all makes sense now:-) are really wonderful and helpful. The school doesn't actually open until March. This week they are having free promo classes to hopefully get many students from Feb and I am not exactly sure, but so far it's great! I don't have internet yet in my apartment, but when I do, I'll write a nice little testimonial for you! You and your staff have been GREAT:-) Thanks again for introducing me to the other TEIK teachers in the area-already met Joseph!
Erica Jane O'Rourke-Gimhae, S. Korea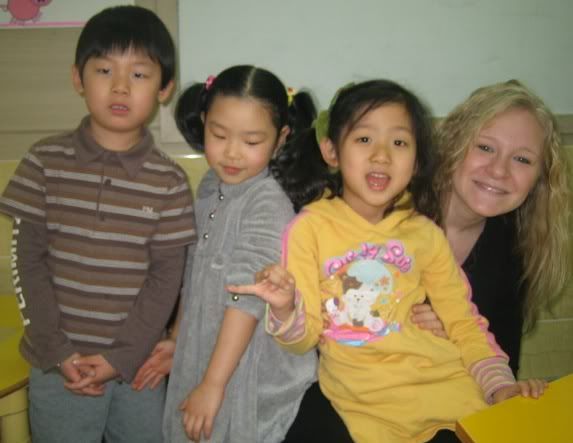 Hi Brad & TEIK Staff,
Just wanted to check in and let you all know how things were going. It's been busy, but I've been having a great time. I really like the school and the area I'm living in (Anyang City) and it's so easy to get to Seoul if I feel like doing something different. The Korean teachers I work with have been extremely nice and helpful with the students. Since the classes are small, I've really enjoyed getting to know the students as well. Thank you for all your help with finding the school and getting me here. I'll be in touch soon!
-Emily Lenox-Anyang City, Gyeonggido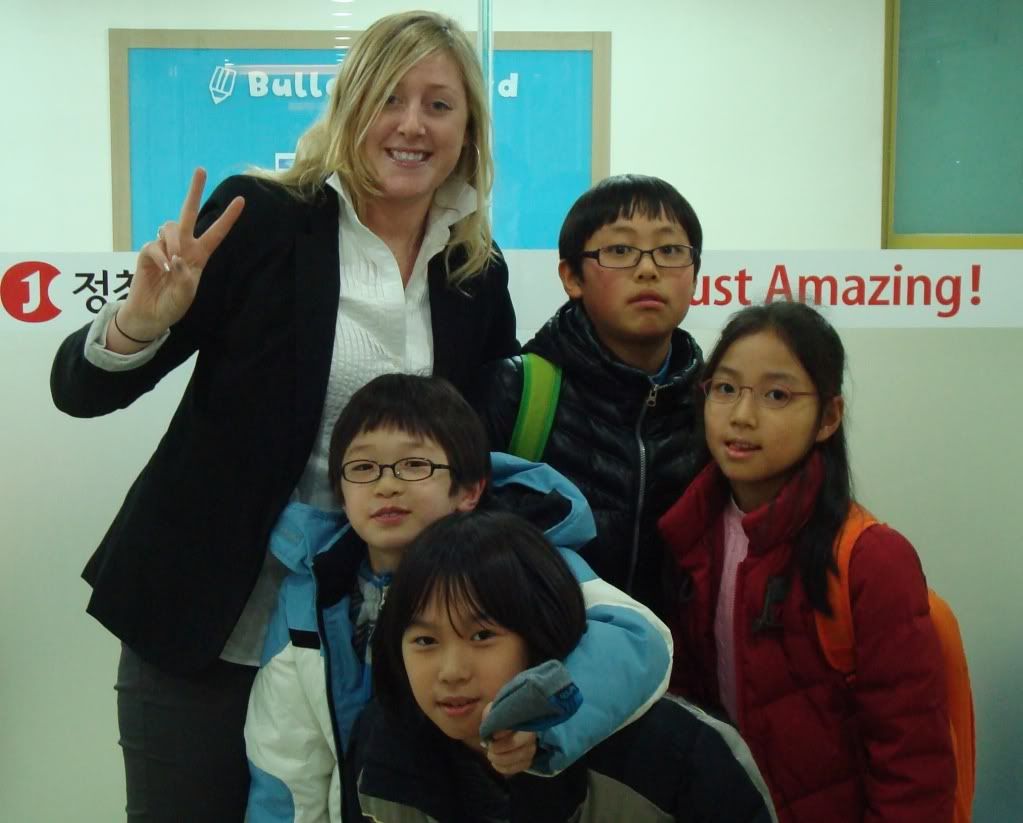 Hi Brad,
I have been so busy adjusting to this amazing country that I almost forgot to tell you how much I appreciate your help. The school that you set me up with has gone above and beyond to make sure I have everything I need. My director and coworkers took me to homeplus to get groceries and things for my apartment. They also acted as my tour guides through all the sites, culture, and food that Korea has to offer.
This experience is everything I hoped for and more! I couldn't have done it without your help. I already gave your contact information to one of my friends who is interested in teaching too!
Keep doing what you do best!
Brittany Thurston, Incheon, South Korea


Hello Brad! I wanted to go ahead and write a quick little thing about how wonderful you are before I forget again! Basically, you and Misty were so supportive and helpful. I never would have gotten here on my own and all the different options you offered (visa help, TEFL certification, etc...) were not only encouraging, but a life saver! I have already recommended T.E.I.K to everyone who has asked me about teaching in Korea, and I will keep spreading the word! I'm positive that you will continue to ask about updates and will help with things I need while I am here. So, thank you for all that and I hope your corporation grows and grows! I've also attached a picture. The one on the far right is my favorite! His name is Fred:-)
I promise I'll get all the tasks for the certification into you pronto. I have not forgotten! Erica J.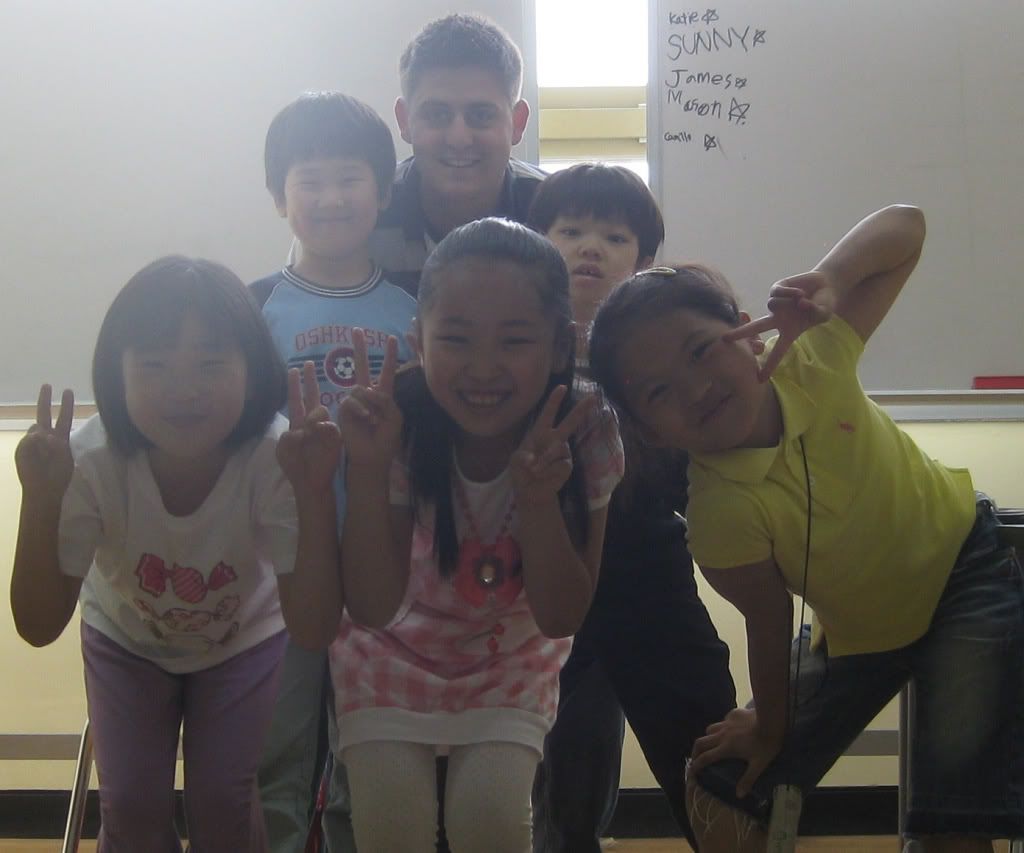 Hey Brad how's it going? I'm just finishing up my first year in Korea, glad to say it was a good experience. Thanks for giving me a hand in finding a good job, I really appreciate it. Also, thanks for recommending the TEFL course because it really helped me feel comfortable teaching in the classroom. Other than the obvious ups and downs of moving abroad for a while, I'd have to say I'm pretty happy with my housing, my school, my location, and my experience. Keep it up Brad. I attached some photos of my rug rats if you're interested in checking those out. Anyway, I'll keep in touch since I want to come back. Give me a hand will ya? Take care and have a good one.
Joshua Zakutni, Bucheon City, Gyeonggido
Hey Brad and Misty,
Just wanted to let you guys know I am settled into my new apartment and safely in the ROK. Thank you so much for all your help and guidance. My place is awesome. The school seems very nice. The people who run seem delightful. I will keep you updated as I start my first week of work, and send you photographs of everything as well. Thanks for making my visa stuff and job hunt a breeze, Brad. Misty, I wanted to let you know that you are the reason I chose to go with TEIK in the first place. Our interview/conversation on the phone was very reassuring and made me feel like I was going to have someone on my side throughout the whole process. Thanks again, Matt Cwiklinski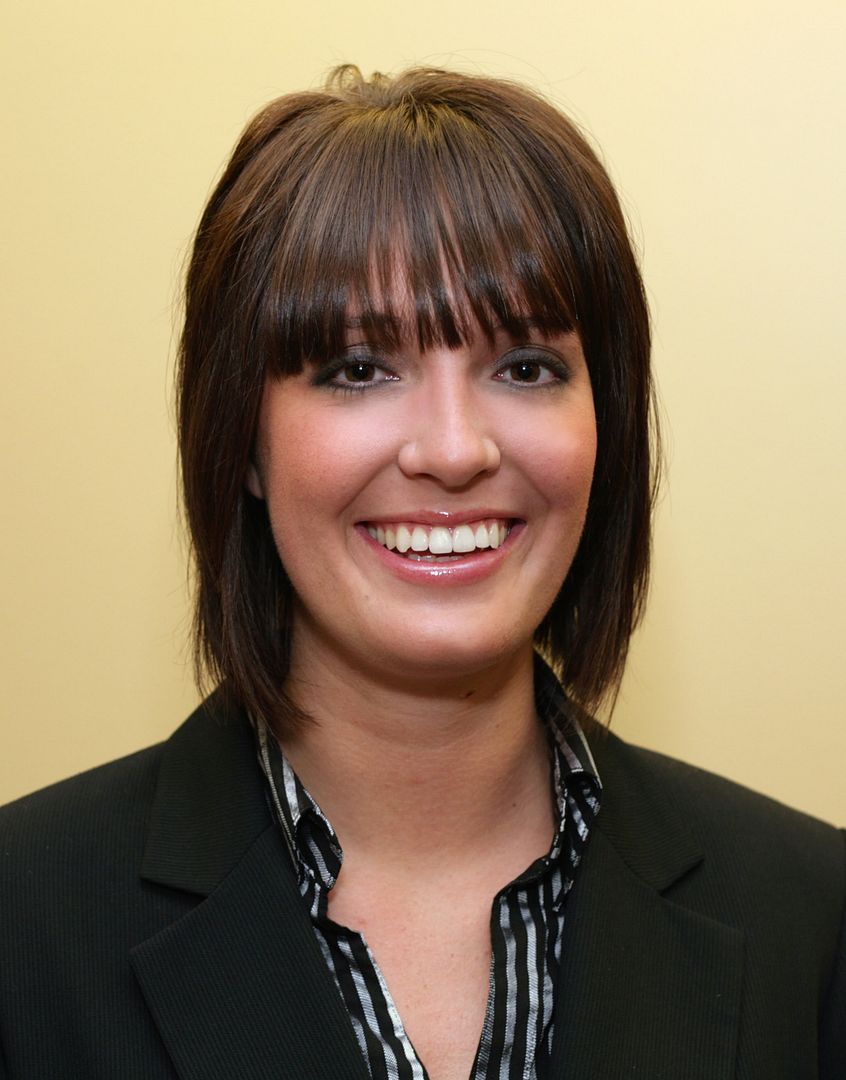 Brad,
Hope you're well! With half of my time here in Korea passed, I figured I should send you a much deserved testimonial! :) Here it is! Link to a picture from Halloween but I'm not in it! http://www.facebook.com/photo.php?pid=32912395&l=9f94eca1c1&id=32503760
"I highly recommend Brad Brennan as an English teacher recruiter for South Korea. His website, while simple, was extremely informative. It's definitely worth your time to read through his explanations and recommendations. He placed me in an academy that I love. He never took more than an hour to email me back answers to any questions I had. There was a time that I wasn't sure about coming to Korea and he was patient and understanding. His expertise gave me the confidence I needed to move across the world! Now, I love it here. Thanks Brad!" Sarah Snyder

Hello Brad and TEIK staff,
How have you been? It hasn't quite been a year yet but I have decided to use your recruitment services again and I enjoyed my school so much, but I want to go home to visit my family for 1-2 months and my school cannot let me take that much time off, so it will be better for them to hire a new teacher and I'd like to explore a public school position for my next contract. I've had a very nice year at my school and I think I've learned a lot from the experience. I really enjoyed working with the administration and teachers at the school and by the end of the school year, I felt that we had accomplished some great things and developed a really effective and respectful line of communication with one another. I was even won a 'teacher of the year' award at the graduation. Thanks for the excellent placement last year and I hope things have been going well for you and please let me know what I have to do to be able to go home for 1-2 months then come back to a new school. Thanks again for doing my visa for me. Mark Wilson, Seoul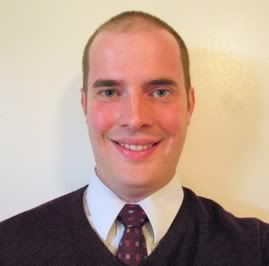 Hey Brad & Misty,
Thanks for sending me the emails of other TEIK teachers in my area, I really appreciate that - I'd love to get in contact with them and make more friends, especially since I've not been here long.
So far, everything is going really great. I've been having a great time in the classroom, and I'm really enjoying SLP. It is a really great school - they are supportive of their teachers and make sure they have everything they need to do a great job. There is the occasional class that gets to be a handful, but most of the time they are wonderful.
I've gotten my ARC, so everything is squared away. I'm just looking forward to my first paycheck next week :-). I'm really enjoying Suwon so far, and I look forward to exploring and the greater Seoul area more, as well as the rest of Korea. Thank you for connecting me with SLP - I'm very excited to have such a wonderful place to work.
Best, Jon Toups

Hi Brad, Misty and Paul,...Last September, when I arrived in Seoul, I got thrown right into the fire and jumped head first into a new culture and country and got way too busy (in a great way!) So I've been in Korea for nearly a year now, and it wasn't until about 2 weeks ago that I realized that I never thanked you for all of your help and hard work to get me to Seoul....so thank you so much! Anyway, life here has been phenomenal and I can't believe how truly quickly times flies. A part of me feels like I just arrived to the ROK, despite finishing my first job out here in exactly one week!
Thanks to your help, I've had such a great experience here. This includes having a good job with great students, a nice place to live (in a nice area of Seoul), great working hours, and some awesome coworkers. Because of all of these things, among many others, I am certain that I will be returning to Korea for another year. I've made some great friends, had some great times, and really haven't gotten enough from this wonderful country just yet. I finish my contract next Wednesday, then I'm going to go travel SE Asia for a month before heading home for a bit, to see some family, friends, and attend a wedding or two.
Again, thanks for all of your help. I recommend you to anyone that ever asks for advice on recruiters for ESL in Korea, or for any general questions that I may not know all of the answers to. With that being said, I would love to turn to you again to find my next job in Korea.
Hope all is well in Chicago. Kevin Schmidt, Seoul S. Korea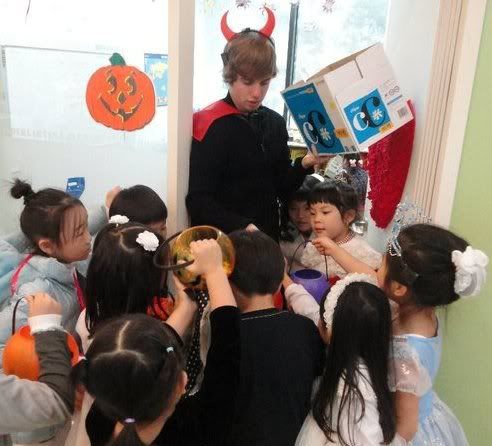 Hi Brad & Paul, This e-mail is long overdue. I'd like to tell you about my experiences in Korea so far and what the school is like, as well as my future plans for teaching. I can understand how highly you praised this school as being one of your best. My kids are great, and it's a great way to save money. I love Korea in general.
So my job is great and the experience of teaching abroad in Korea goes unparalleled. It's amazing, and I love the food, people, and culture. I'm so glad that I decided to do it. My coworkers are great people and have become some of my closest friends.
I've looked into doing the TEIK 150 Hour TEFL certification and I am very interested in teaching in Uruguay after I'm finished in Korea. I've attached a picture of me on Halloween with a bunch of kids from my school. Feel free to use it as well as any selected quotes from this e-mail for your website.
Sincerely, Max Paderewski, Suji, Bundang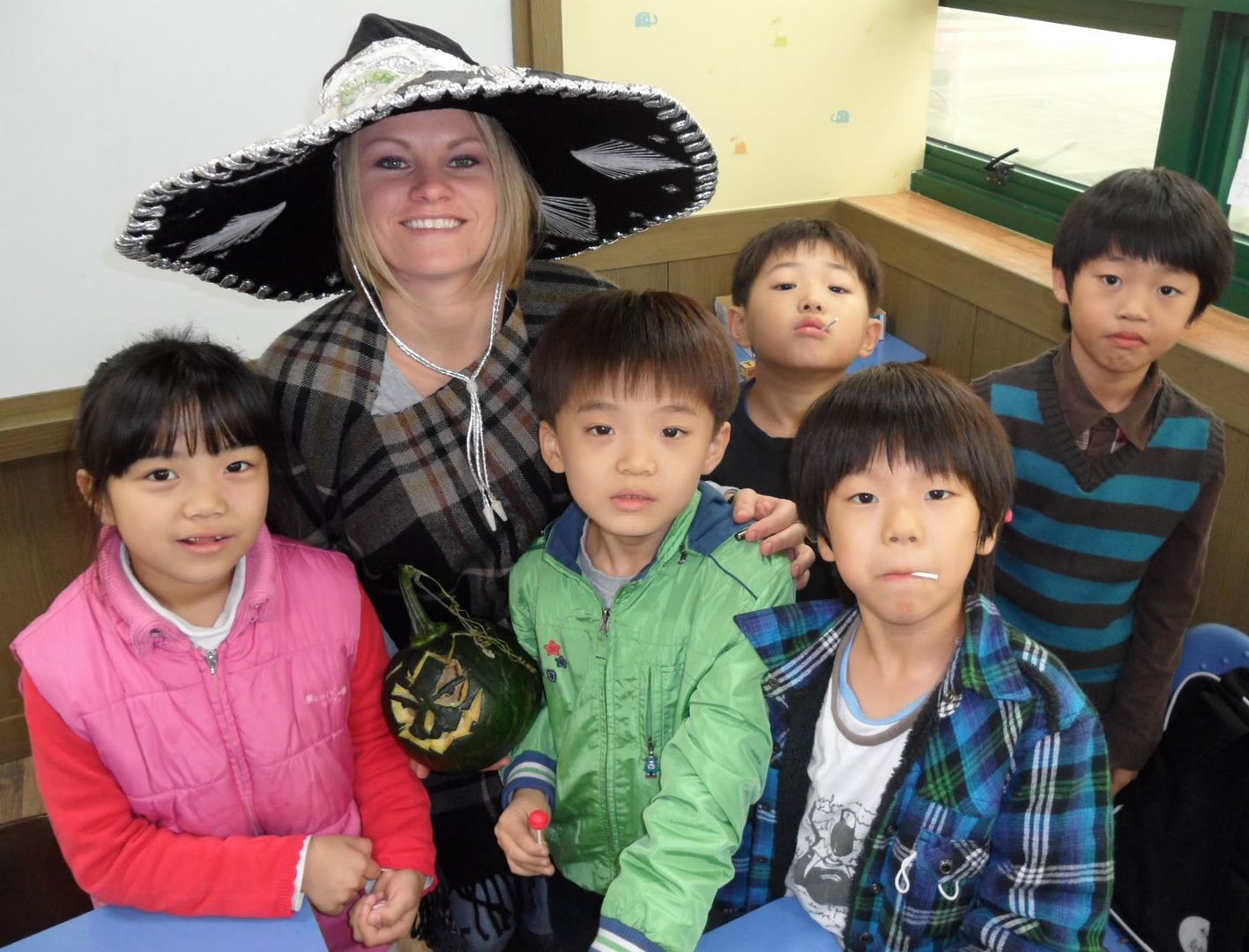 Hi Brad & Paul,
I just wanted to drop a quick note to tell you how much I am enjoying Korea and especially the school I am working for! My co-workers are amazing and the kids are even better. I am gaining so much experience and learning so much about this new place I call home. I couldn't have asked for anything better! I appreciate all the help you gave me to get here and your continued support through my journey here in Korea!
Tiffanie Glaze, Bucheon S. Korea

Well Brad and Paul, I have been here for 4 ½ months now and I'm enjoying it a lot. The school is new and all the teachers are supportive and try their hardest to make life easier and if there is a problem it's usually down to cultural differences rather than maliciousness. I have settled in fine and I am now accustomed to Korean food, life, customs etc. Brad made the whole application process easy and I never doubted him for one moment, always giving me information and keeping me up-to-date with any developments. If anyone has any questions then by all means find me on Facebook and I will be happy to answer.
I have attached a photo of me and my students taken from a recent wedding. Take care and best wishes
David Bollands, Namwon, South Korea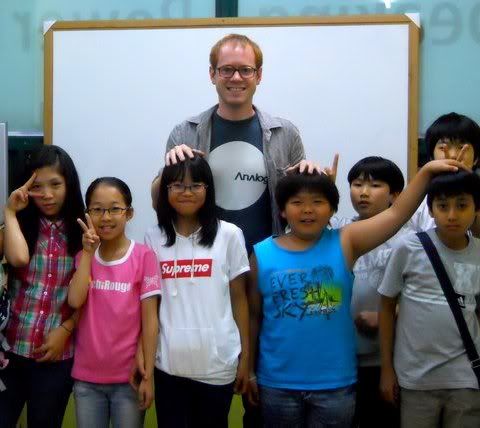 Hey Brad,
Sorry it took me so long to send you this... Brad and TEIK were very informative and extremely helpful. I was able to find a job fast and easy. The school was what I was looking for and I was treated great. Thanks so much for the excellent recommendation and helping me out with getting my TEFL certification through www.teflusa.com. It helped greatly in getting more cash and I was able to apply it all when I landed in the classroom. Overall TEIK was excellent. Thanks a lot!
Kyle Harter, Namyangju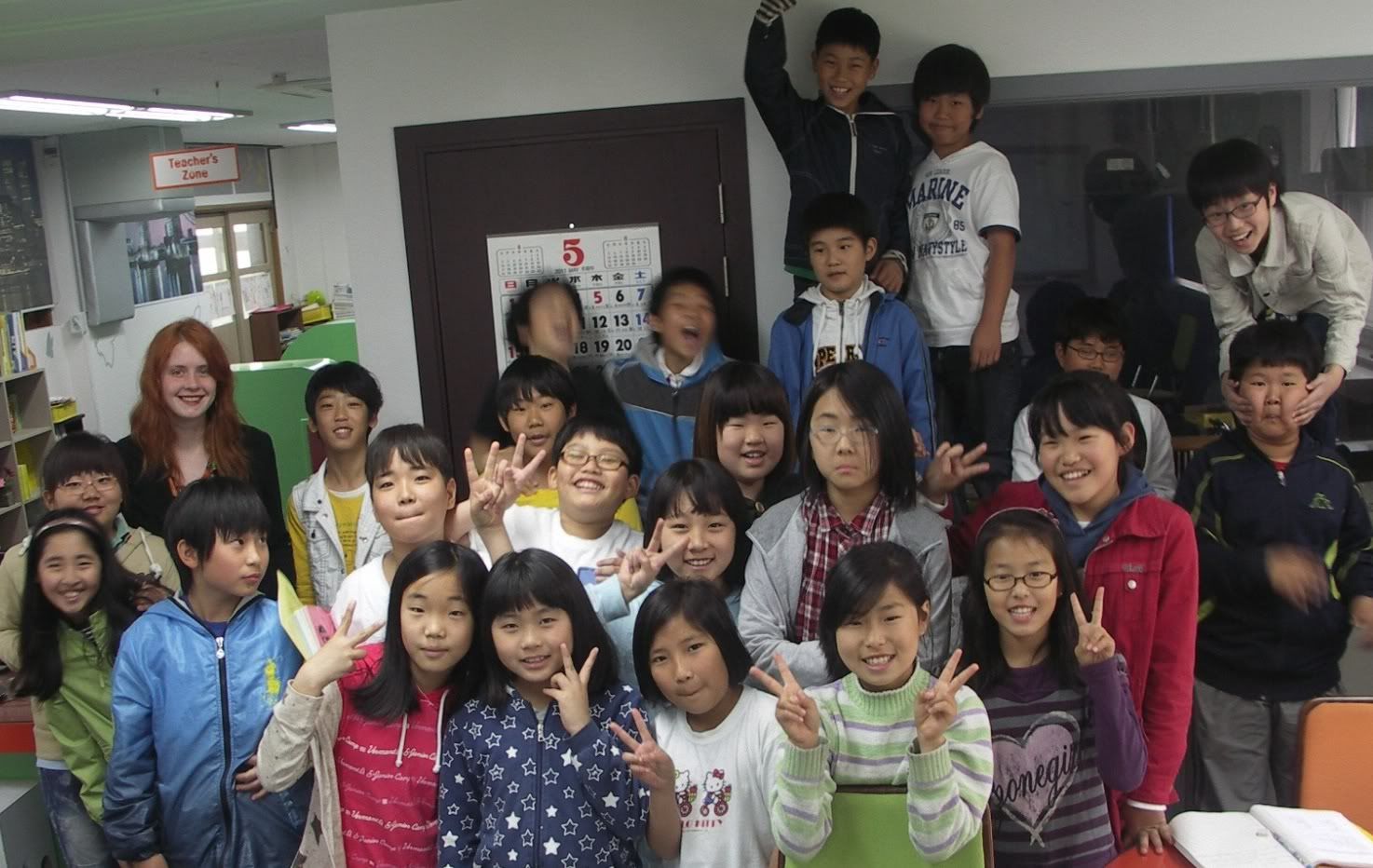 Hi Brad, Going to Korea to teach was the best decision of my life! I honestly thank you for helping me get there. Sadly though I won't be able to join you for a meal as much as would honestly love to.
I made my school very happy and absolutely loved every day living in Goyang-Si but in May I was approached by a Studio and was offered a job as a lead 2d artist. The studio basically paid me to fly back to the east coast. Do not worry though I did everything by the book when leaving the school. I gave them over a month notice and prepared basically six month's worth of lesson plans and games for them. they were very sad to see me go but happy for my new job. It was because I was adventurous enough to go to Korea on my own that really impressed my boss and got me this job. I now work at my dream job drawing all day and designing new cool games. I still keep in contact and miss my students very much. Lucky enough my studio is near a massive Korean community here in Northern Virginia so I still can find tasty Korean food. Kimchi grew on me. And I still love speaking in the little korean i can when I can.
I hope all is well for you and that you have a great safe trip. I'll always be grateful for your help in making again what I still believe to be the very best decision I have ever made!
love peace and kimchi- Michelle Davies (GEPIK)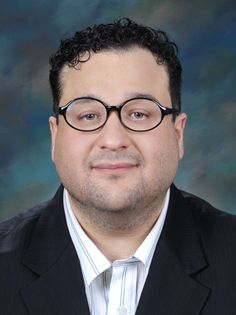 To Whom It May Concern,
I have been in Korea for quite a while and have dealt with a few agents/recruiters. Some are OK. Some are sleazy to no end. And some are really superb. TEIK belongs to the latter. Brad and Scott have been incredible. They offered me position after position and did not stop until they found the right one for me. They are also quite transparent, honest, sincere, and professional. You will not regret dealing with them.
Regards,
Solomon Hakim (Ilsan Korea)

---
Please login or register to add comments